Ethiopia
Type of emergency: Displacement crisis
Renewed inter-communal violence and clashes throughout Ethiopia in the spring of 2018 have forced at least one million people to flee their homes, the majority being women and children. In the reporting year 2017-2018, NRS Relief scaled up the response to the growing displacement crisis.
Country at a glance
Human displacement in Ethiopia caused loss of assets, disrupted livelihoods and basic services, and damaged infrastructure. Aid agencies reported critical gaps in accessing basic services such as shelter, food and water, as the majority of internally displaced people (IDP) left their houses with close to nothing.


These newly displaced people are in addition to the 1.6 million Ethiopians elsewhere in the country that have been pushed from their homes by conflict or drought since the previous year. A recent World Bank Report concludes that worsening climate impacts will result in 86 million internal climate migrants across sub-Saharan Africa by 2050. In Ethiopia, for example, the population is projected to grow rapidly by 60–85 percent by 2050. Reliance on rainfed agriculture makes rural livelihoods especially vulnerable to the effects of climate change.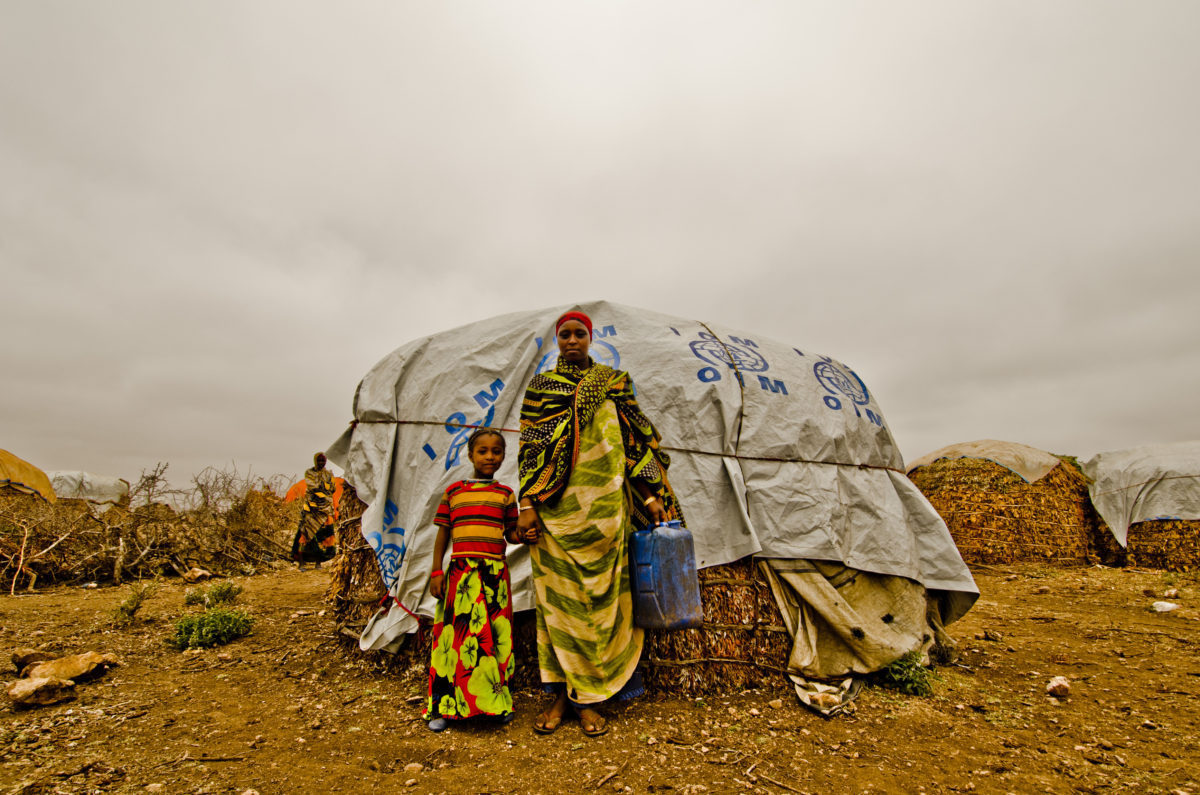 Many of these people were sheltering in schools or temporary facilities and were in need of immediate protection services and access to safe drinking water. The latest information released by the United Nations Office for the Coordination of Humanitarian Affairs (UNOCHA) estimates there are 8.5 million people in need of some form of humanitarian aid and a multi-sectoral assistance is necessary to respond to the acute needs of this vulnerable population.
Our response
Recent figures of the USAID Ethiopia office reflected that 3% of the allocated budget was spent on Shelter & Settlements and 21% on Water, Sanitation & Hygiene. This distribution can be seen as a blueprint for other UN and aid agencies, who follow similar patterns. It is in these areas our company can and is continually contributing.
In this reporting year we have primarily provided 20,000 tarpaulins directly at country level. Tarpaulins are sometimes referred to as the 'aid workers' secret tool', thanks to its strength and versatility. In the first phase of any emergency relief operation, adequate shelter is a basic need to ensure protection against the elements. A tarpaulin can be used to create a first-phase temporary accommodation in which beneficiaries can shelter. In addition, it provides privacy, comfort and emotional security. NRS Relief supplies reinforced tarpaulins (UNHCR standard) as well as woven flexible tarpaulins (IFRC/ICRC/MSF/Oxfam standard).
When the alarming news about the situation in Ethiopia reached us in the Spring, we actively responded to the crisis through our 'Rapid Response Strategy' (RRS) approach. For instance, we worked closely with IOM to ensure a healthy pipeline and supply of the required goods. Our account managers worked with both the Global Supply Unit in Manila (Philippines) as well as the country office in Addis Ababa, which resulted in close to half a million core relief items being dispatched in the second half of 2018. At the same time, we replenished our emergency stock in Lahore, Pakistan, to safeguard adequate levels of shelters and relief items for future operations.
Sources