ReciproBoo Shelter Kit (RSK): Practical bamboo-based emergency shelter
Introducing a sustainable, low-cost way of creating temporary shelters using bamboo poles and tarpaulins, inspired by Leonardo da Vinci's technique in building bridges centuries ago
In the first phase of an emergency relief operation, adequate shelter is a basic need to ensure protection against the elements, to create a space in which beneficiaries can live and store belongings, and to create privacy, comfort and emotional security.
NRS Relief offers a wide range of shelter solutions, such as family tents and tarpaulins. To promote sustainability, self-reliance and to encourage the use of locally sourced materials, the 'ReciproBoo Shelter Kit or RSK' offers an innovative and practical temporary bamboo-based shelter in combination with high quality tarpaulins.

The RSK Shelter is an award-winning innovation that greatly facilitates the building of bamboo emergency and transitional disaster relief shelters. It uses a strong and efficient reciprocal frame roof that has a long and proven history in construction. Image credit: www.rskshelter.org
Reciprocal design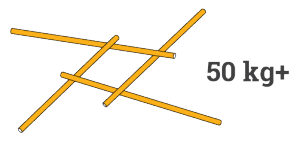 Using a technique invented by Leonardo da Vinci to build bridges centuries ago, beneficiaries can independently create a self-supporting reciprocal frame with four overlapping bamboo poles. This very strong, closed circuit can support heavy loads and creates a durable frame roof. The structure, made up of mutually supporting poles, is a low-cost solution and creates dignified shelters that provide protection and security.
It is the ability of a reciprocal frame to support its own weight that has been used in designing the roof of a new type of relief shelter. The result is the ReciproBoo Shelter Kit; now better known as the 'RSK Shelter'.
The RSK Shelter is able to span a large space using minimal materials, and at the same time support heavy weight using simple overlapping joints, making the concept ideal for shelter construction.
Key features

Weight bearing reciprocal frame to support cladding
Shelter uses 33% less bamboo
Exceptional tarpaulin support
Only 7 poles, easily assembled in minutes
Using locally sourced materials
All joints are simply cross lashed
The frame roof can be lowered in a severe storm
This emergency shelter has a rectangular shape, pitched roof. Covered floor area: 3.40 x 5.15 m (17.5m2). The frame has plastic sheeting (tarpaulin) for both roof and wall covering, and one entrance at the front. You will need three people and one to two hours to construct.
Types of bamboo shelters
Standard bamboo shelter model
Elevated bamboo shelter (single shelter elevated, double shelter elevated on one side, double elevated shelter)
Bamboo roof frame model
Double shelter
More information
For more information, visit www.RSKshelter.org. NRS Relief supports this initiative that solves a huge variety of problems in a simple, low-cost way. RSK Shelter is the well-deserved winner of the AidEx Aid Innovation Award in 2015, a year after NRS Relief won the same award for its life-saving Fire Retardancy solution for the humanitarian community.