Introducing NRS Relief's Rex Hall – Mobile Storage Unit (MSU) innovation
The king of our tent structure range
Humanitarian crisis areas often lack reliable structures to accommodate affected populations, safeguard food storage and create a decent infrastructure to respond to disasters effectively. Mobile Storage Units (MSUs), or flexible warehouses, are the answer when hard structures are unavailable or inadequate. MSUs are then deployed and installed, as well as the rehabilitation of existing structures and local construction to boost the available storage capacity.
NRS Relief is proud to offer the Rex Hall series, a range of MSUs in sizes 6.5 x 8 m, 10.0 x 24 m,10.0 x 32 m and 10.0 x 36 m. Our product development and engineering team has worked tirelessly to bring an advanced mobile storage unit to the humanitarian community.
Designed for easy transportation
The Rex Hall MSUs have been designed specifically to be air freighted following a natural disaster, and have lightweight aluminium frame and space-efficient packaging. This allows for cost-effective transportation to disaster-affected areas, even to the most hard-to-reach destinations.
Endless options and conversions
Our tent design team has ensured our Rex Hall can be converted to any given disaster response need. Our high quality and durable structures offer various options to ensure it is suitable in any challenging situation.
The main application for a Rex Hall is a warehouse. The fabric buildings, which are safe to construct and logistically optimized, are designed to be used in all climates around the globe. The 10m width and 3.3 m wall height are perfect for palletized storage and the full-sized truck doors make the Rex Hall easily accessible.
Optional accessories allow better use of the Rex Hall warehouse: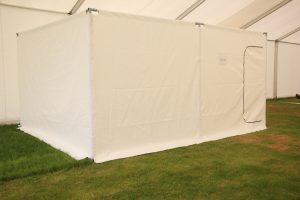 LED lighting system
Solid flooring
Fire alarm system
Pedestrian access door
Linking Kit to give access to Rex Halls via the side wall
Outdoor lights
Solar energy system for off-grid electrical systems supply.
The MSU is perfect for warehousing, and can store vast quantities of food supplies, non-food items, refugee shelters and other disaster relief supplies. The 10 m width and 3.3 m wall height are perfect for palletized storage and the full-sized truck doors make the Rex Hall easily accessible. But going beyond this, our tent design team designed a range of accessories so that the Rex Hall can be converted to any given disaster response need. These include indoor and outdoor lighting system, solid flooring, partitions, liners, solar energy solutions, a fire alarm system, a pedestrian access door and a kit to link together multiple MSUs.
The accessories enable the Rex Hall to be converted in the following structures:
Accommodation
Distribution centre
Dog kennel
Hospital
Kitchen / Canteen / Recreation
Office
School
Workshop.
Unparalleled flexibility
The Rex Hall offers unparalleled flexibility in any emergency situation. It is designed so that it can be easily and cost effectively shipped, whether by sea, or even by air in the most urgent cases. Once on site, the MSU can be erected quickly and with the minimum of manpower. A team of four to six people can build up even the biggest Rex Hall in an easy day's work. The frame is made from aluminium, and this results in a lighter weight structure, with each element being easily lifted by two men without the need for specialist lifting equipment.
Rough terrain often puts significant hurdles in the way of a quick and efficient construction. We understand that areas experiencing crises won't necessarily have the smoothest and most convenient sites upon which an MSU can be erected, probably quite the opposite. That's why we have designed a unique system of adjustable base plates. So if there are depressions, small craters and other obstacles, the team erecting the Rex Hall can be assured of a hassle-free construction. Watch our MSU base plate assembly video:
Manufacturing excellence
Our longstanding relationship with our manufacturing arm H. Sheikh Noor-ud-Din & Sons in Lahore, Pakistan, allows us to closely oversee the development and production of the Rex Halls. Watch the production video to understand the capacity and manufacturing excellence NRS Relief can rely on.
Downloads
Technical specifications sheet – Rex Hall – MSU 6.5 x 8 m (Used by WFP)
Technical specifications sheet – Rex Hall – MSU 10.0 x 24 m (Used by ICRC/IFRC/WFP/UNICEF/UNHCR
Technical specifications sheet – Rex Hall – MSU 10.0 x 32 m (Used by UNHCR/UNICEF)
Technical specifications sheet – Rex Hall – MSU 10.0 x 32 m (Used by ICRC/IFRC/WFP)
Technical specifications sheet – Rex Hall – MSU 10.0 x 36 m (Used by UNICEF/UNHCR)
Solid Flooring System for NRS Relief's MSUs and multipurpose tents