Eat Play Learn bags launched to support children's education
On 15 October 2019, the NRS Relief team went to Carrefour in Dubai to buy bags packed with children's dreams. These bags are proudly produced by our manufacturing arm in Pakistan and are made from upcycled refugee tent materials. The proceeds from each reusable bag sale will go towards sending more than 100,000 children to school in Egypt, Jordan, Saudi Arabia, Oman, Lebanon and the UAE.
In a first-of-its-kind project, our CSR team shared the tent tote idea with the UNICEF office in the UAE earlier this year. UNICEF recognized its potential and introduced the 'bag of hope' concept to its fundraising partner Carrefour, one of the largest hypermarket and supermarket chains in the world operated in the UAE by Majid Al Futtaim. One in every five children in MENA is out of school, and both Carrefour and UNICEF share the desire to address this issue. As such, Carrefour's reusable bag initiative comes as part of a Memorandum of Understanding (MoU) that was signed in 2018, which saw Majid Al Futtaim commit to supporting the education cause across its businesses over three years.
Eltayeb Adam, UNICEF Gulf Area Office Representative, commented:
"Education is at the heart of what UNICEF does to ensure that children the world over secure their rights to a happy and prosperous future. We are delighted to join hands with Carrefour in this important initiative."
To NRS Relief, this is a not-for-profit CSR initiative to bring attention to a sustainable humanitarian supply chain and leverage the power of public-private collaboration for impact. All bags carry important messages of sustainability, circular economy, zero-waste policy, promoting access to education and the empowerment of women in disadvantaged communities. NRS Relief's graphic design manager Vipin Babu remarked:
"This design is very special to me. Normally I work on technical shelter data sheets or tent assembly manuals, but with this creative challenge we had a unique opportunity to come up with a refreshing design to inspire Carrefour customers to help children go to school."
Going to the store as a team outing was an insightful and rewarding experience. Carrefour staff at the Ibn Battuta Mall branch were clearly passionate about the bags with a purpose. When finalizing our purchase, the female cashier at the check-out counter spontaneously smiled and said; "Thank you for buying this bag, the children in need who will benefit, will be grateful."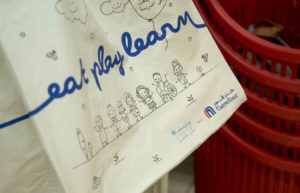 She is right; buy a bag and give a future! This simple shopping bag can carry quite a heavy load, literally and figuratively. Literally, because they are made from exceptionally strong tent fabric that normally protects displaced families, but also proverbially because enabling children to go to school is invaluable and essential for sustainable development of the region.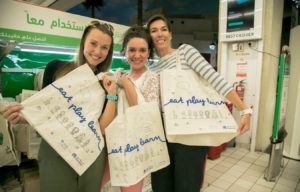 Purchase your Eat Play Learn bag for only AED 15 today at a store near you. They are available in all Carrefour Hypermarkets and selected supermarkets.