NRS Relief Launches New Medical Isolation Solution
Isolation Cabins become our latest innovation to facilitate the testing and treatment of suspected cases of COVID-19 across the globe.
We are proud to announce the launch of our medical isolation cabins, created to support the global medical response to COVID-19.
The global pandemic is disrupting lives and businesses across the world at an unprecedented rate. With healthcare facilities pushed to their limit, we need new facilities for treating suspected patients. The new solutions need to combat the further spread of the virus and support health workers needs.
We believe that innovation is woven into the core values of our business. That's why NRS Relief took on the challenge of engineering a solution that would allow governments and organizations to extend the capacity of their healthcare services and keep their patients safe.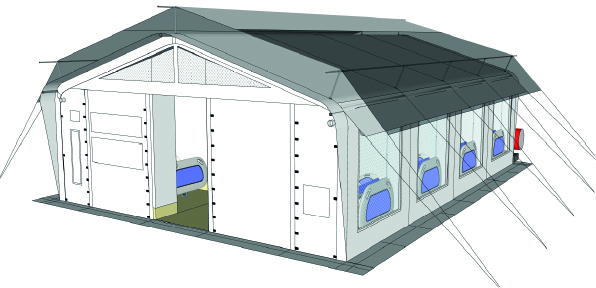 Seamless Design in Action
We created purpose-built isolation cabins to facilitate the safe triage, testing and treatment of patients. The shelters have a central walkway allowing healthcare workers easy access to each of the individual cabins. Meanwhile each patient is kept separate in an individual, ventilated cabin. This way, suspected cases are kept apart to reduce the chances of transmission.
The solution enables the setup of field hospitals tailored to deal with viral diseases, with features fitting the specific needs of medical isolation treatment. Each cabin has PE coated walls that can be washed down with commercial chemical disinfectants. This is crucial to maintain sanitary conditions between patients. The magnetic door closures make handling the doors easy in protective clothing and all seams are welded to create smooth surfaces. These details make our isolation cabins the ideal solution to respond to the outbreak and make the process as seamless as possible.
At NRS Relief, we are always responding to the changing requirements of those in need. Whether it be creating a safe space for the refugee community or helping in the global fight against Covid-19.
For more information about our isolation cabins solution, please contact us at info@nrsrelief.com.