Fire retardant tents installed in Syrian camps
A major humanitarian aid agency has spearheaded the roll-out of 4500 fully fire retardant (FR) tents in refugee camps within Syria. Designed and supplied by NRS Relief and manufactured by our manufacturing arm in Lahore, these FR tents will improve safety in the camps and prevent the unnecessary loss of property, injury and death.
We were the first company to introduce fully fire retardant tents and tarpaulins, with the fire retardancy benchmark taking years of extensive research and development, under the guidelines of the UNHCR and IFRC. This innovation was considered a significant milestone in the history of the humanitarian sector, and went on to win the AidEx Innovation Challenge Award in 2014.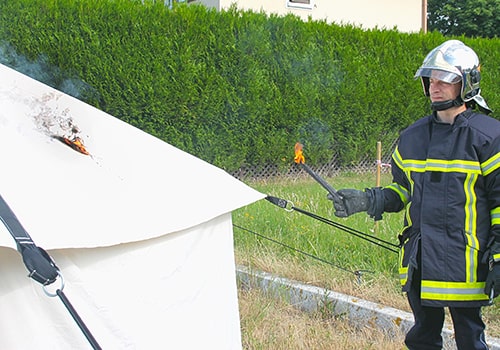 2016 marks the fifth year of the Syrian crisis, and this recent installation is just one example of how we empower relief operations across the Middle East region, and around the globe. In 2014-15, NRS Relief supplied more than 65,000 shelters to provide a roof over the heads of 325,000 refugees and internally displaced people, plus another 4 million core relief items.