#LoveCoats project kicks off on World Refugee Day to empower refugee girls through fashion and design
NRS Relief partners with renowned British fashion designer Helen Storey to empower Syrian girls living in Za'atari refugee camp in the spirit of the UAE Year of Giving
To mark this year's World Refugee Day, NRS Relief and award-winning social artist, designer and researcher at London College of Fashion, UAL, Professor Helen Storey, are launching the '#LoveCoats' project to empower the TIGER Girls of Za'atari refugee camp in Jordan.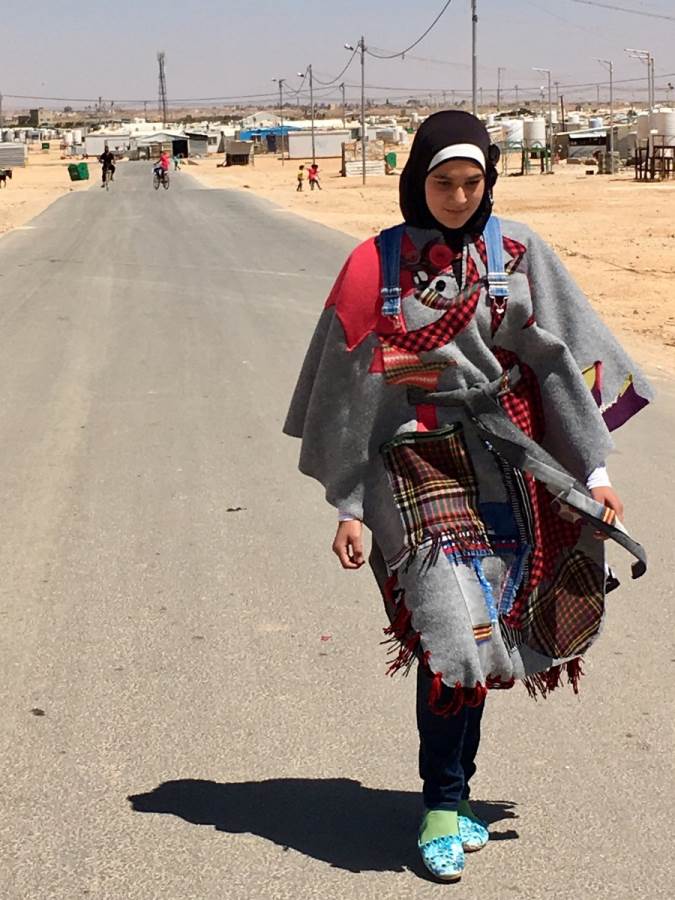 Thermal refugee blankets transformed into high fashion
As part of the UAE Year of Giving, NRS Relief donated 1,000 meters of thermal blanketing material to Professor Storey. The durable material meets UN Refugee Agency (UNHCR) specifications, and in 2016 NRS Relief sold 3.9 million of these blankets to leading aid agencies worldwide.
The #LoveCoats concept was created in conversation with the TIGER Girls and given life in Dubai during the annual DIHAD summit (Dubai International Humanitarian Aid & Development Conference & Exhibition) in March, under the auspices of H.H. Sheikh Mohammed Bin Rashid Al Maktoum, Vice-President, Prime Minister of United Arab Emirates, Ruler of Dubai.
"When I first met Professor Storey at DIHAD, I was greatly inspired by her previous projects that use the power of fashion to address the world's most pressing issues, such as the refugee crisis," says NRS International Managing Director. "Professor Storey explained the fear of the refugee girls of being cold in winter. This led to our collaboration, which is in line with what we offer as a company, namely relief items. It was only a natural response to provide the blanket material. We are hugely impressed with the transformation of how one blanket can become so fashionable."
TIGER Girls aiming high with #LoveCoats
The collaboration invites TIGER Girls (These Inspiring Girls Enjoy Reading) in Za'atari refugee camp in Jordan to participate in the #LoveCoats project. It aims to ultimately empower 1,250 adolescent girls through fashion and design and to develop their technical skills to make clothes to battle the next winter. It also serves to explore the TIGER Girls' own identity and ambitions for the future.
"If hope is what we need in the world, then working with the TIGER Girls of Za'atari is where you can find it – from the moment I first met them and their coaches, it was clear that here, against all the odds, was female spirit and endeavor in abundance," says Professor Storey when asked what it's like to work with the girls. "They aim high, as they should, and anything we can do to continue to enable and help them reach their full potential as young women will serve us all – the world needs the TIGER Girls – they have much to teach us, too!"
Professor Storey will deliver the #LoveCoats project between 9-17 July, with the TIGER Girls designing the functional art for personal use in the winter.
Unprecedented refugee crisis
The #LoveCoats project is launched on World Refugee Day, which takes place on June 20 each year to shine a light on the courage and resilience of families forced to flee war or persecution. According to the UN Refugee Agency's latest survey, global forced displacement has increased in 2016. By the end of the year, 65.6 million individuals were forcibly displaced worldwide as a result of persecution, conflict, generalised violence, or human rights violations. This is 300,000 more than the previous year, representing an enormous number of people needing protection worldwide.
Only the beginning
NRS Relief is committed to keep the #LoveCoats project rolling through its continued supply of blanket materials. Through this project, the design workshops will foster a creative learning environment for the TIGER Girls in the camps. They will have the opportunity to enhance their clothing design skills and pass it on to the younger girls – creating a legacy that will last for many years.
From Dubai to the world
Through the #LoveCoats project, NRS Relief hopes to raise awareness for the ongoing refugee crisis, in particular in the Middle East. At the same time, it also encourages private businesses to contribute and for the UAE residents to make a difference in the lives of those most in need.
About Professor Helen Storey
Professor Helen Storey, MBE, RDI is a researcher at Centre for Sustainable Fashion at London College of Fashion, UAL. She studied fashion design at University of Kingston and achieved critical acclaim in the industry before changing the focus of her career to explore new creative challenges within the field of science. For over three decades Professor Storey has been producing inspirational and exciting works in the public realm, as well as in academic and corporate spheres. She is now known as a social artist and designer who challenges and explores how fashion can be used to engage audiences to consider some of our most pressing global issues. In 2016, her latest work, Dress For Our Time has been shown at The UN in Geneva, on the Pyramid stage at Glastonbury and at The Science Museum, London. Here, working with Holition the creative agency and UNHCR, she explores through data visualisation the movement of displaced people, creating a previously unseen map on the back of the dress, made from a refugee tent that once housed a family in Syria. To know more about her work, visit www.helenstoreyfoundation.org or follow her at www.twitter.com/ProfHelenStorey.
About the TIGER Girls
Adolescent girls in Za'atari are dropping out of school at a dangerous rate; only 20% achieve a secondary school certificate. TIGER Girls (These Inspiring Girls Enjoy Reading) will enable 1,200 Syrian girls, supported by Syrian female coaches, to participate in team-based learning, increasing their personal sense of agency, meaning and connection. Using an open source multimedia library, this community-based program will motivate adolescent girls either to stay in or to return to school. To know more, follow them at www.twitter.com/ZaatariCamp.
Irene Omondi, Education Officer at UNHCR Jordan explains the power of the TIGER Girls: "The TIGER girls are truly inspirational, with aspiration, passion and interest to do big things in life. It is hard to fathom the challenges they live with; yet the girls continue to focus on education and serving their community as role models. The TIGER girls and their coaches is a reflection of extending happiness to one self through caring for others. They remind us of the purpose of life, where personal needs, heart virtue and skills in complimentary drives our creativity to solutions."