Relief goods distributed to Afghanistan landslide victims
Kuwait Red Crescent Society (KRCS) successfully distributed relief goods supplied by NRS Relief in response to the May 5 landslide in Afghanistan's mountainous province. The landslide has killed at least 300 residents and left hundreds of families homeless.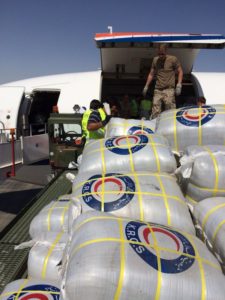 A total of 9,640 blankets and 500 tents were being transported by air to Marza Sharif Airport. NRS Relief took charge in the air freight arrangements as per client's request.
The enormous landslide buried the mountainous northeastern province of Badakhshan. Officials said that at least 300 residents of Abi Barik village were killed, cautioning that the final death toll could go up to 2,700.
Rescue teams have given up hope of finding any survivors, diverting their focus on helping hundreds of displaced families.
Many of the surviving families have struggled to get aid. Some have gone to nearby villages to stay with relatives or friends, while others have slept in temporary shelters and tents provided by aid groups.
According to Afghan officials, they plan to build new houses for the hundreds of families made homeless by the disaster that entombed the northeastern village.