7 Tips to Understand Shelter Matrix
Making the right choice for shelter options is of utmost importance during emergencies to ensure the preservation of people's dignity and the effective utilization of funds. Our Shelter Matrix briefly outlines diverse shelter solutions and their respective applications. By utilizing this matrix, humanitarian decision-makers can acquire the most appropriate and well-suited solution for their needs. Our adaptable tents and mobile storage units offer a range of configurations and optional accessories designed for various climates and landscapes.

Here are some tips to help you navigate and understand the Shelter Matrix:
Tip #1: Starting Point. Consider your Specific Needs
You can choose from options such as Family Tents, Multipurpose Tents, Inflatable Tents for living purposes, or select Mobile Storage Units for keeping items safe and secure.
Tip #2: Selecting a Specific Tent
If you are considering Family Tents, you will find options like DomeHome, GeoHome and Viva Family Tent & Viva Family Frame Tent. Inner Liners are typically included as a standard option, but be sure to refer to the "Inner liner" section to confirm.
Tip #3: Standard Section
Our tents have undergone extensive field testing and are developed in collaboration with various organizations. The Standard section reflects the bottom line standards followed during shelter creation by organizations such as UNHCR (United Nations High Commissioner for Refugees), ICRC (International Committee of the Red Cross), IFRC (International Federation of Red Cross and Red Crescent Societies), IOM (International Organization for Migration), MSF (Médecins Sans Frontières/Doctors Without Borders), UNICEF (United Nations International Children's Emergency Fund).
Tip #4: Basics
Shelter Size: Shelters come in a wide range of sizes, ranging from 18.5 square meters to 72 square meters. Mobile Storage Units (MSUs) have sizes varying from 240 to 360 square meters, additionally MSUs length can be extended in size of 4 m.
Fire Retardancy: The fire retardancy of shelters is indicated by a Y (Yes) or N (No) sign, highlighting whether the shelter has been proven to be fire retardant.
Materials Used: Shelters are constructed using different materials, including:

• PE (Polyethylene)
• PC (Poly Cotton)
• Alu (Aluminum)
• PES (Polyester)
• PVC (Polyvinyl Chloride)

Tent Style: Tents come in various styles, including:

• Dome shape: Round-shaped tents.
• House shape: Resembling a traditional house structure.
• Ridge style: Characterized by a pole along the top where two sloping sides meet. Ridge tents are classic, triangular-shaped tents.

Inner Liner: An inner liner offers additional comfort by buffering moisture and creating an extra barrier in hot or cold weather. For some tents an inner liner is standard, for others this is optional.
Winterization kits: for family tents we offer winterization kits including insulating sleeping mats, additional liner and accessories to install a wood burning stove inside the tents. Choose the kit fitting your tent of choice. For the GeoHome we offer a special winter liner made of insulating material.

Tip #5: Applications
The Applications section of the Shelter Matrix focuses on the various purposes for which shelters can be used. Each application is color-coded to indicate its suitability:

Dark Green: Indicates a highly suitable status
Light Green: Indicates that it is possible to use the shelter.
Accommodation: Shelters suitable for providing living spaces.
Medical Unit: Shelters suitable for setting up medical facilities.
Storage Facility: Shelters suitable for secure storage of items.
Educational Facility: Shelters suitable for educational purposes.
Office Command: Shelters suitable for establishing command centers or office spaces.
Workshop Space: Shelters suitable for workshop or working areas.
Tip #6: Options
The Options section of the Shelter Matrix outlines the standard features included with each shelter. These options enhance the functionality and suitability of the covers for specific purposes. The standard options may include:

Soft floor: A flexible flooring material that provides comfort and insulation.
Hard floor: A sturdy and durable flooring solution.Recommended for tents installed on uneven and soft grounds and used for medical, office or other application using furniture or equipment on wheels inside the tent.
Hard windows: Windows made of durable materials for enhanced security and visibility.
Partitions: Dividers that create separate spaces within the shelter for privacy or organization.
PC liner: A Poly Cotton liner that offers additional insulation and protection.
Insulation liner: A liner designed to improve thermal insulation inside the shelter.
PES liner: A Polyester liner that enhances durability and protection against the elements.
PES liner: Especially recommended when the tent is used for medical applications. This liner can be disinfected by most commonly used detergents including chlorine based.
Tip #7: Accessories
The Accessories section of the Shelter Matrix highlights the most suitable accessories for the shelters. These accessories, marked in dark green color, enhance the functionality and comfort of the shelters. They include: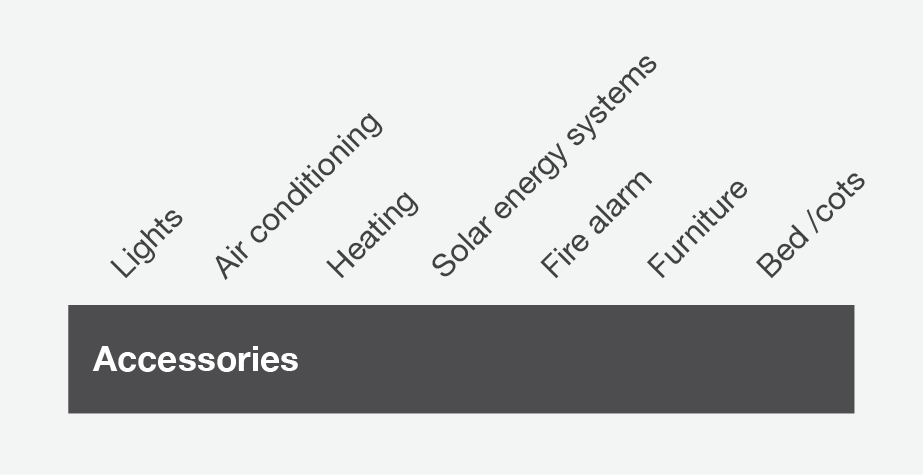 Lights: Illumination systems to provide adequate lighting inside the shelter.
Air conditioning: Systems that regulate and maintain a comfortable temperature.
Heating: Solutions to keep the shelter warm in colder conditions.
Solar energy systems: Renewable energy sources that power the shelter.
Fire alarm: Safety systems that detect and alert occupants in case of fire.
Furniture: Essential items such as tables, chairs, and storage units.
Bed/cots: Sleeping arrangements for comfortable rest.
For any further clarification, please, get in touch with our sales department on following email: bdm@nrsrelief.com