Dispatches from the field: Distributing tarpaulins in Afghanistan
NRS Relief recently supplied more than 1,300 tarpaulins to Nomad International, part of the Nomad Concepts Group, for use in IDP camps in Afghanistan. In this dispatch directly from the settlements surrounding Kabul, we get a fascinating glimpse on some of the challenges involved in delivering humanitarian aid, courtesy of Benjamin Slater, Managing Director of Nomad Concepts Group.
"We had been tasked with the delivery of vital humanitarian relief products and the installation of emergency shelters for an IDP camp of approximately 9000 people and 1300 families on the outskirts of Kabul. For the duration of this project we had the support of our agent in Afghanistan, Nomad International, who dealt with the procurement of items from NRS Relief, import and transportation into the country and eventual distribution and technical services." – Mr. Slater, Nomad Concepts Group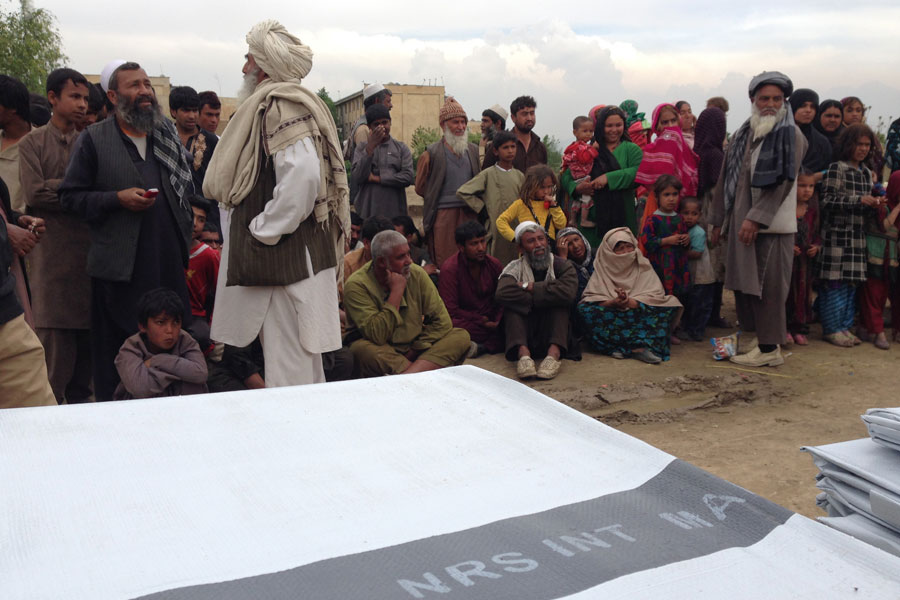 The first batch of tarpaulins* were deployed in the northern sector of the camp on 3 May, and for the most part the day went well. For sure there were some issues here and there, but we had already expected that these would come with the territory. The good news was that we officially handed over 319 tarpaulins.
Each tarpaulin delivery was signed off in every household, using signature and fingerprinting for accountability, and slightly less than two hours later we completed the initial distribution. We thought that this was pretty good progress, especially as we had encountered certain community members determined to monopolize the distribution and to exclude many desperate families.
On the second day of distribution on 4 May, we aimed to complete the distribution in the northern camp sector and to also distribute to as many folk in the southern section as possible. In the north camp, we again saw further strong arm tactics being used by some residents, and other camp dwellers seemed to live in great fear of these people. Nonetheless, even though our progress would be slowed,  we decided to tackle this aggressive group first. Even though they were indeed trouble makers, they still had women and children at home that required these vital emergency supplies.
"As the distribution progressed, it became increasingly evident that some people were sending the same family members to collect tarpaulins and were also blocking access of others. When we tried to prevent this, they became extremely aggressive and demanding, and this culminated in an armed stand-off. At this point, we made the call to stop the distribution in this part of the camp."
However, we were still determined to make the distribution in the south camp, but were conscious that the north camp aggressors should be unaware of this. We therefore pretended to flee the area, and once at a safe distance circled around to the south camp, and made a pre-arranged meeting with the senior tribal elder there.
The handout in the south camp went very smoothly, and it was great to see such a well-mannered and well-organised distribution. The tribal leader was excellent and showed a real concern for his people, and this was reflected in a visibly strong community spirit. All in all, our distribution activities on day two lasted four and a half hours.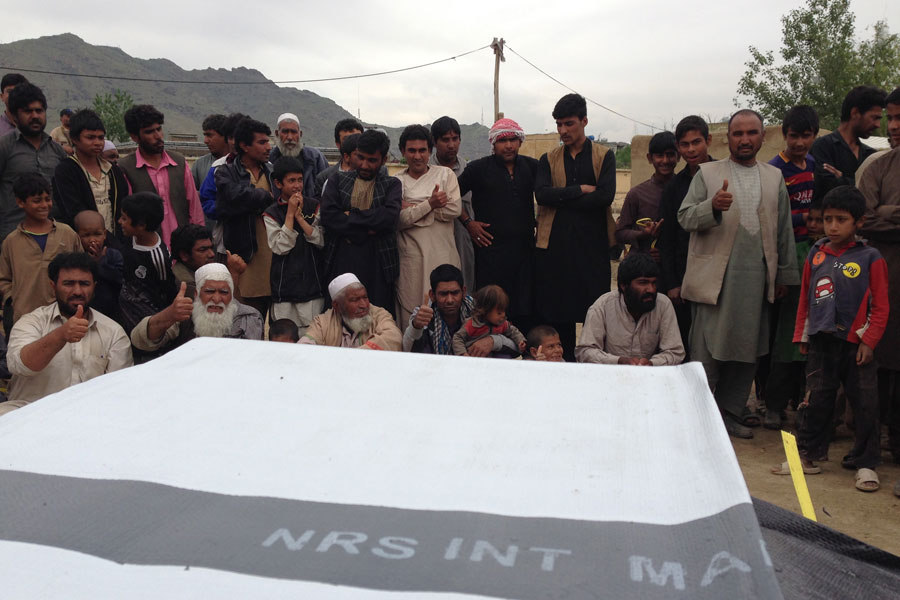 Over the two days, we effectively distributed close to a thousand tarpaulins. Even though we experienced some risky situations, we were still able to walk around both the north and south areas of the IDP camps offering technical advice. Even the Nomad International senior management were on the ground helping the communities putting up their new tarpaulins.
Going forward, we aim to revisit the southern camp in the next few days as we know some families did not receive tarpaulins, and we will confirm the exact requirements with the tribal leader. We'll also be conducting some monitoring and evaluation, to see if both groups have put up the tarpaulins correctly.
We are pleased how things have gone, despite the issues, and Nomad International will continue to support these people in vital need no matter the threat. There are at least another 54 of these IDP camps just within Kabul itself, and we hope this is the first of many implementations.
*The tarpaulins being used in the implementation in Afghanistan were NRS Relief's Woven Flexible Tarpaulins. Developed through extensive international research, these tarpaulins are designed for long outdoor use in all climates, and are highly recommended for family shelter protection. Fire retardant, waterproof, rotproof and UV-resistant, they are offered in either 4m x 6m sheets, or as a 4m x 60m roll.
To view the full photo gallery, please click here.