Dubai fashion students create bags from upcycled tents for World Refugee Day
'Bag of Hope' designs revealed at a sustainable fashion show in IHC's showroom

In a unique press event in the region, humanitarian relief supplier NRS Relief and The Dubai College of Fashion & Design (CFD) have collaborated with the International Humanitarian City (IHC) to host a sustainable fashion show to mark this year's World Refugee Day. The 'Bag of Hope' event, which took place on 19 June at the IHC showroom, aimed to raise refugee awareness, promote a sustainable supply chain and create social impact through the power of fashion. The campaign also supports the UAE Year of Tolerance, which embodies the approach adopted by the government to solidify the UAE as the global capital for tolerance through a series of initiatives, projects and dialogues between various cultures and civilizations.
During the show, four CFD students revealed their fashionable bag creations made from refugee tent waste materials. The designs address the global refugee crisis and convey messages of hope and peace, in times of the largest humanitarian crisis since World War II.
Sherifat Abubakar from Ghana and Amira Saif from Yemen tied for the top spot and were both declared as winners. Sherifat wowed the crowd with her 'All I need is peace, love and Wifi' bag concept. Amira also won the jury's approval for her "Freedom as a butterfly" design.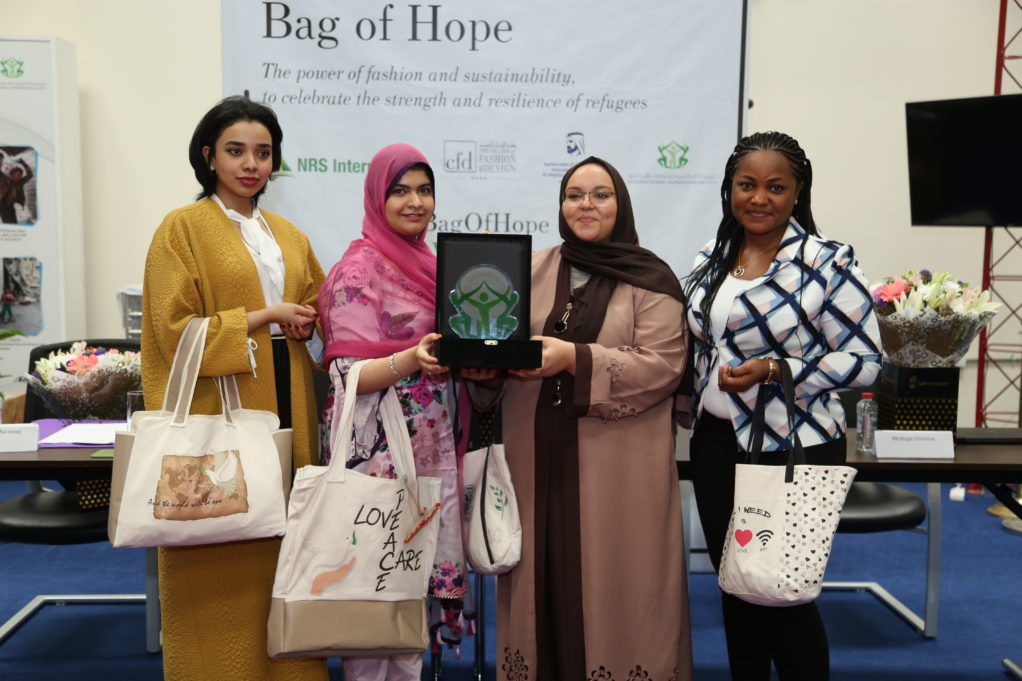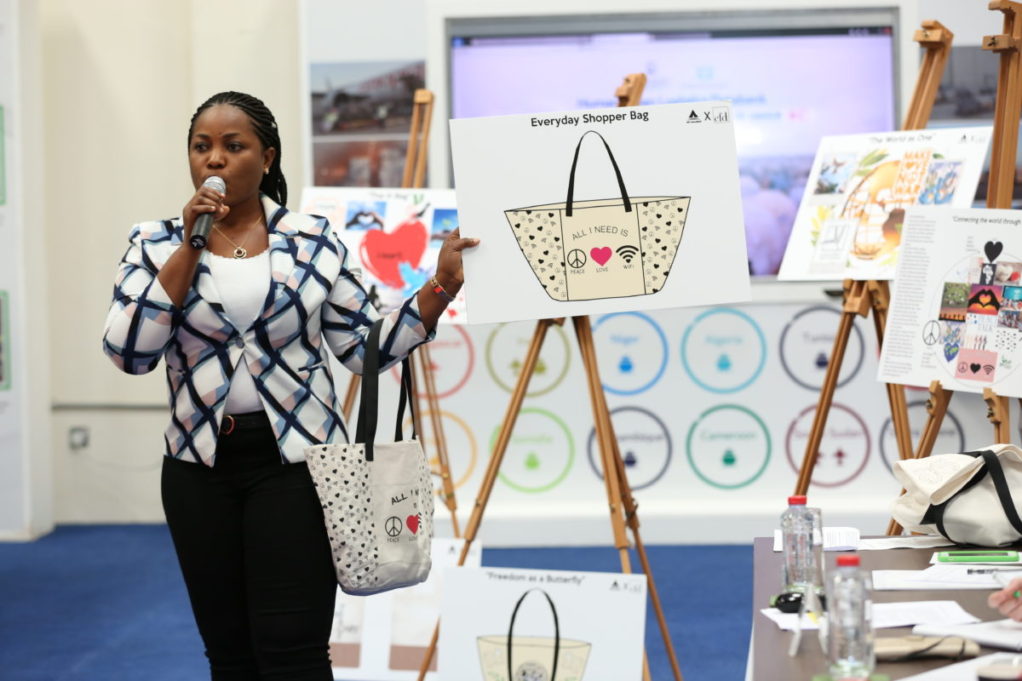 To view more photos from the event, click here.
Prominent figures from the humanitarian sector and sustainable fashion movement acted as jury. The four-member panel consisted of Ola Anan, Public Information/Communication Associate at UNHCR; Hanan Al Marzooqi, Business Development Manager at IHC; Ayesha Siddequa, Founder of Future Fashion ME and Fashion Revolution mentor; and Modupe Omonze, Founder of Runway Dubai and Fashion Sustainability Summit.
Staff members from UN Refugee Agency as well as fashion bloggers, influencers and media representatives also attended the exclusive gathering.
From shelter to fashion
CFD, the first accredited fashion college in Dubai, was challenged by NRS Relief, leading supplier of tents to UN and aid agencies, on how they can leverage the power of fashion to talk about things that matter.
"At NRS Relief, we have a zero-waste policy in our factory in Pakistan, hence we aspire to upcycle the tent material offcuts, such as polycotton and mud flap PVC fabric, and turn them into something more useful and meaningful. This allows us, as a manufacturer, to raise awareness on the importance of shelter to displaced populations, given that the leftovers literally come from the same batch of tents distributed by humanitarian agencies in different refugee settlements worldwide."
– Wieke de Vries, Senior Marketing & Communications Manager at NRS Relief
Around 10 students have participated in the competition and worked on their bag designs over the past months. Four finalists were chosen to present their designs on the red carpet prior to World Refugee Day.
"At CFD, we believe that the fusion between the fashion talents and humanitarian initiatives can contribute positively towards the community. Hence, we try and shape our students' mindset on taking steps to reduce the environmental impact as well as positively impacting lives through their creativity, and this challenge was the perfect blend of both."
-Jessica Galeano, Marketing Manager at CFD
The CEO of IHC, Giuseppe Saba, remarks:
"It is a pleasure to contribute to this event, as we are committed to supporting the humanitarian workers from all over the world in assisting women, children, and men who were displaced and forced to flee their home. They are those who suffer the most in today's world, and we can and must encourage all initiatives that provide help to them."
Collaborating for impact
The Bag of Hope project is not the first time that NRS Relief has used the power of fashion to address the refugee crisis. Last year, in an effort to continuously reduce waste and its environmental footprint, NRS Relief launched #TentTotes, an upcycling project that repurposed tent fabric offcuts into durable totes and shopper bags. In 2017, NRS Relief also partnered with renowned fashion designer Helen Storey of London College of Fashion to empower Syrian girls in Za'atari refugee camp by designing #LoveCoats made from thermal blankets.
Global forced displacement doubled in 20 years
The Bag of Hope project marks the observance of World Refugee Day, which takes place on June 20 each year to shine a light on the courage and resilience of families forced to flee war or persecution. According to UN Refugee Agency's latest annual survey, a total of 70.8 million people were forcibly displaced at the close of 2018, the highest number in the organization's almost 70-year history. This includes 25.9 million refugees and 41.3 million internally displaced persons. It is twice as many people as 20 years ago and 2.3 million more than the previous year. For more info about the latest figures, click here.
Related news
The National: Message of hope: Dubai students repurpose tents into totes for World Refugee Day Khaleej Times: Students in Dubai design bags out of refugee tent material