Fighting cholera in Yemen
As the conflict in Yemen continues, a cholera outbreak in the country is spreading at an unprecedented rate. According to the World Health Organization, there have so far been 368,207 suspected cholera cases and 1,828 deaths. Amidst urgent appeals for international assistance, we offer our life-saving Aquatainer 10 L and 20 L jerry cans which enable the vulnerable populations to store water safely.
100,000 water containers ready for immediate deployment
We have 100,000 Aquatainer 10 L and 20 L units in stock, which are ready for immediate deployment from our Pakistan warehouse. If you would like to hear about our prices and shipping costs, contact our sales team at bdm@nrs-international.com.
Get a quote now
Request a quote here:
Explore the Aquatainer key features
Aquatainer 10 L Collapsible
UNHCR/ICRC/IFRC Standard
10 L capacity, weight 190-230 g, child-friendly
Average thickness 0.60 mm, minimum corner thickness 0.50 mm
Impact resistant on hard surface when filled with maximum volume of 10 L water
Available with or without spigot
Download specifications sheet (UNHCR Standard)
Download specifications sheet (ICRC/IFRC Standard)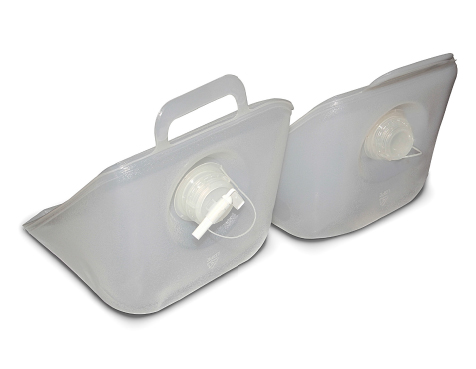 ICRC/IFRC Standard
20 L capacity, weight 265-275 g, child-friendly
Average thickness 0.60 mm, minimum corner thickness 0.50 mm
Impact resistant on hard surface when filled with maximum volume of 20 L water
Available with or without spigot
Infographic: Our Aquatainers at the heart of fighting cholera
Check out this infographic illustrating the dangers of cholera and how our Aquatainers are at the heart of fighting this disease:
Click here to download the infographic