Rex Hall: The mobile storage unit that offers the ultimate flexibility in the field
When disasters or humanitarian crises strike, responding agencies often find themselves in areas without reliable structures. Existing buildings may have been damaged by earthquake or weather, or destroyed due to military conflict, and this hinders the efficient delivery of aid. The answer is the Mobile Storage Unit (MSU) or flexible warehouse.
NRS Relief, industry leader in humanitarian relief products, is proud to offer the Rex Hall series, a range of MSUs in sizes 6.5 x 8 m,  10.0 x 24 m, 10.0 x 32 m and 10.0 x 36 m.
Unparalleled flexibility
The Rex Hall offers unparalleled flexibility in any emergency situation. It is designed so that it can be easily and cost effectively shipped, whether by sea, or even by air in the most urgent cases. Once on site, the MSU can be erected quickly and with the minimum of manpower. A team of four to six people can build up even the biggest Rex Hall in an easy day's work. The frame is made from aluminium, and this results in a lighter weight structure, with each element being easily lifted by two men without the need for specialist lifting equipment.
Rough terrain often puts significant hurdles in the way of a quick and efficient construction. We understand that areas experiencing crises won't necessarily have the smoothest and most convenient sites upon which an MSU can be erected, probably quite the opposite. That's why we have designed a unique system of adjustable base plates. So if there are depressions, small craters and other obstacles, the team erecting the Rex Hall can be assured of a hassle-free construction.
Watch our MSU base plate assembly video:
Going beyond warehousing
The MSU is perfect for warehousing, and can store vast quantities of food supplies, non-food items, refugee shelters and other disaster relief supplies. The 10 m width and 3.3 m wall height are perfect for palletised storage and the full-sized truck doors make the Rex Hall easily accessible. But going beyond this, our tent design team designed a range of accessories so that the Rex Hall can be converted to any given disaster response need. These include indoor and outdoor lighting system, solid flooring, partitions, liners, solar energy solutions, a fire alarm system, a pedestrian access door and a kit to link together multiple MSUs.
These accessories enable the Rex Hall to be converted into an accommodation block, a distribution centre, hospital, catering facility, office, school and much more.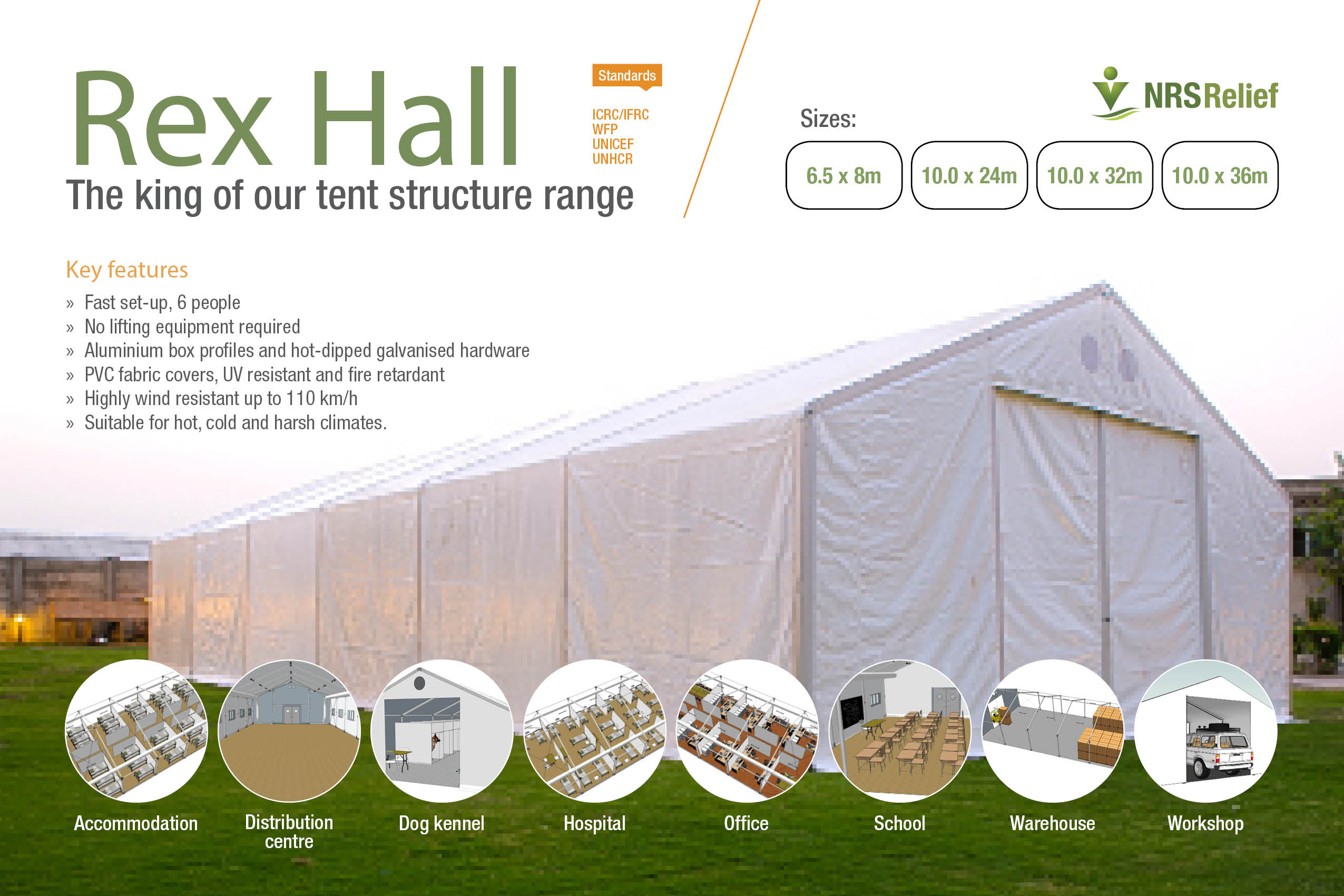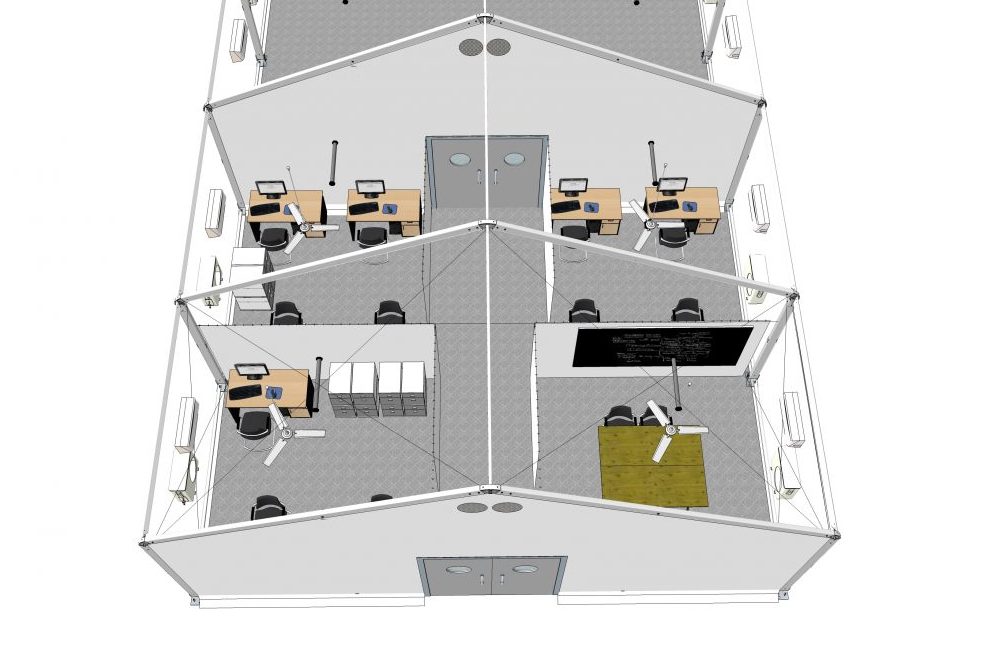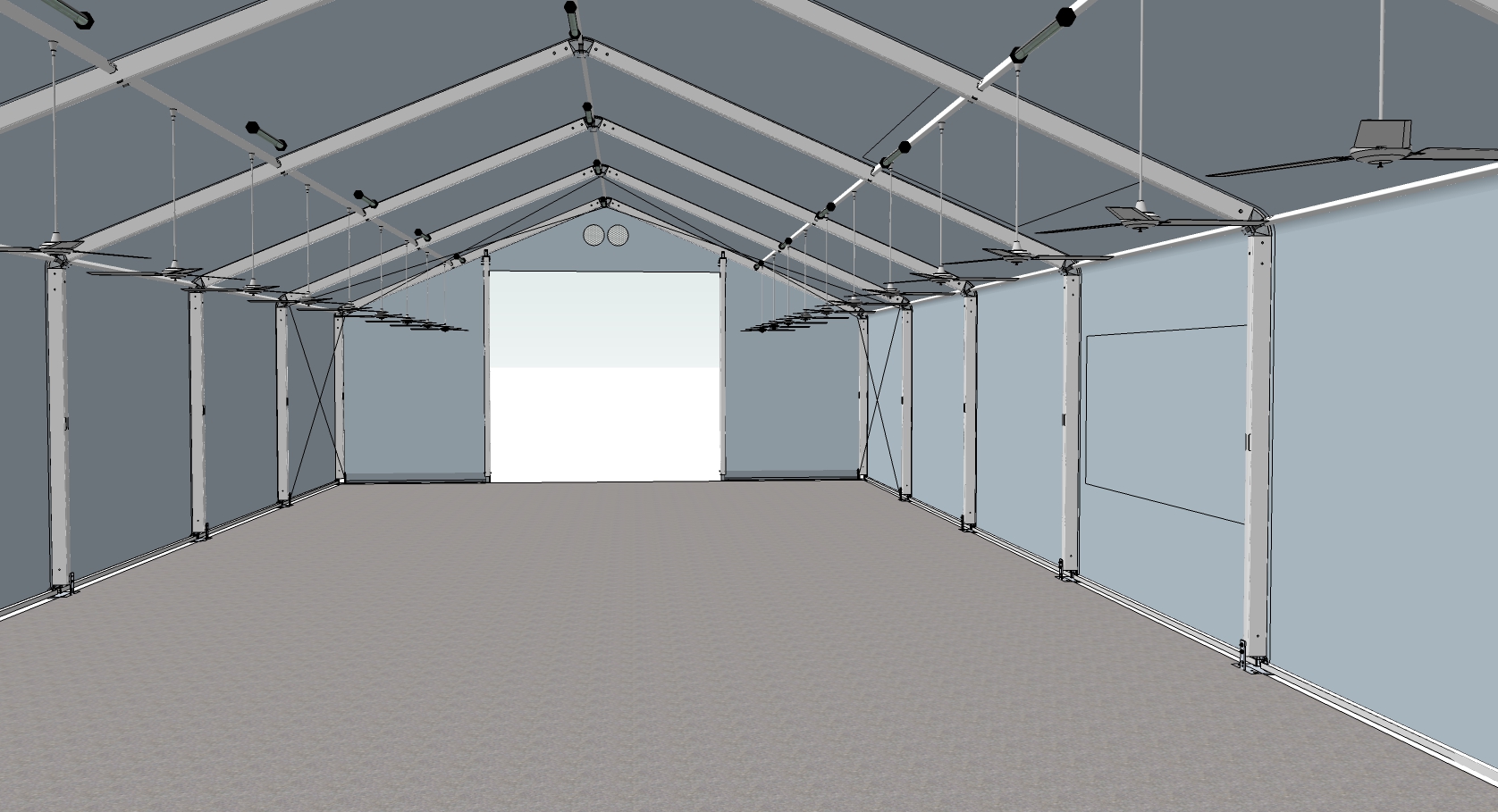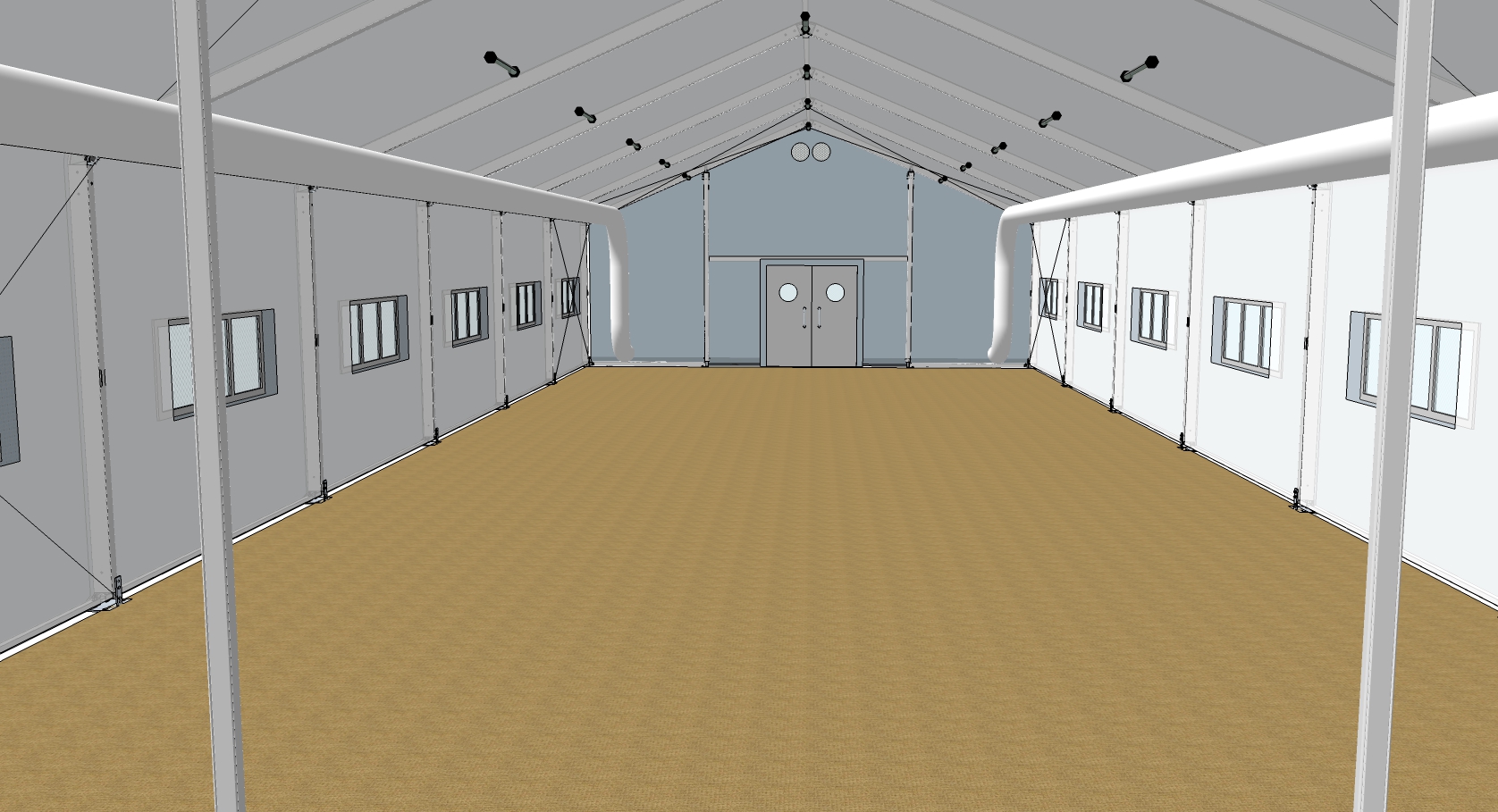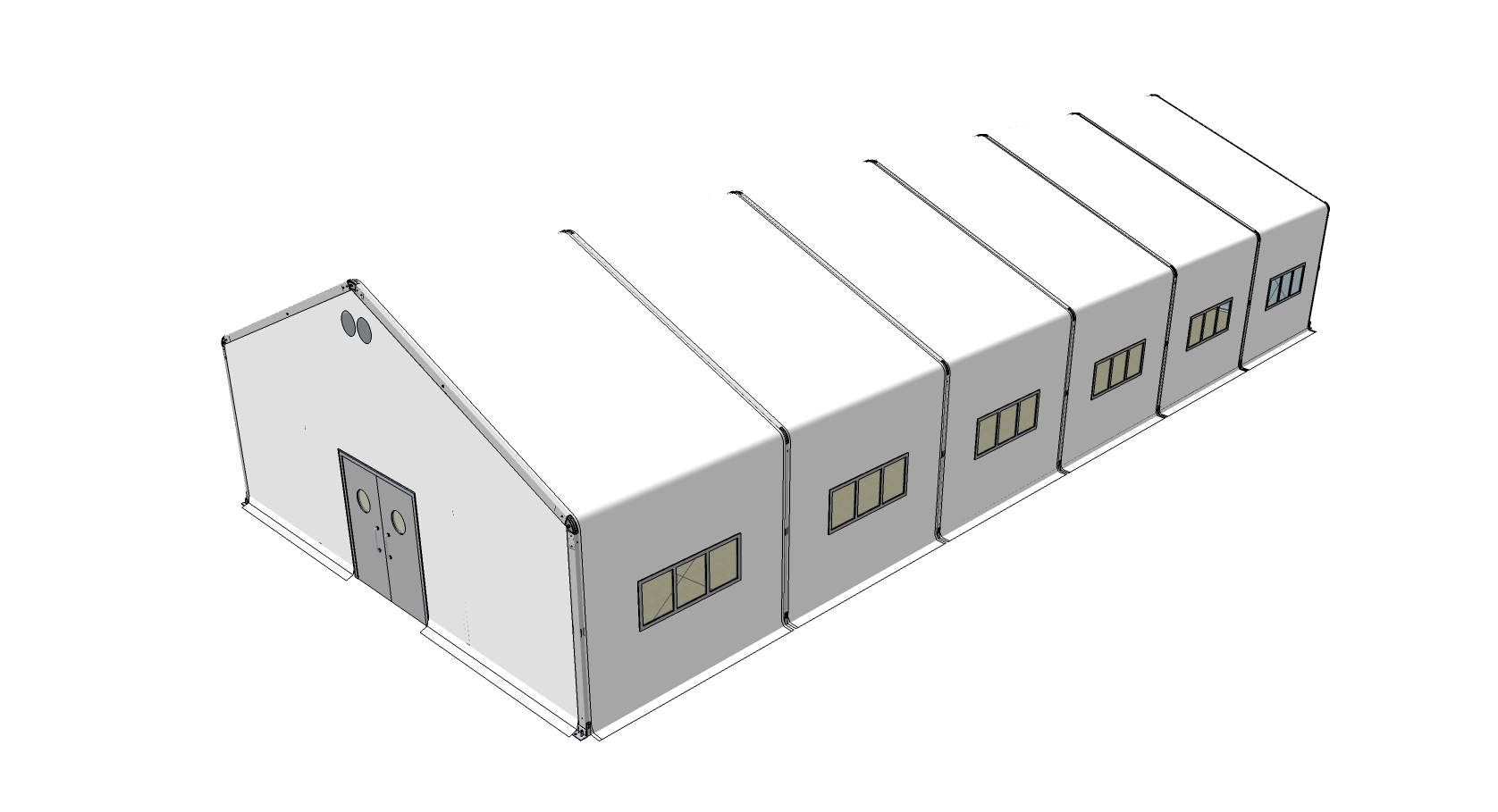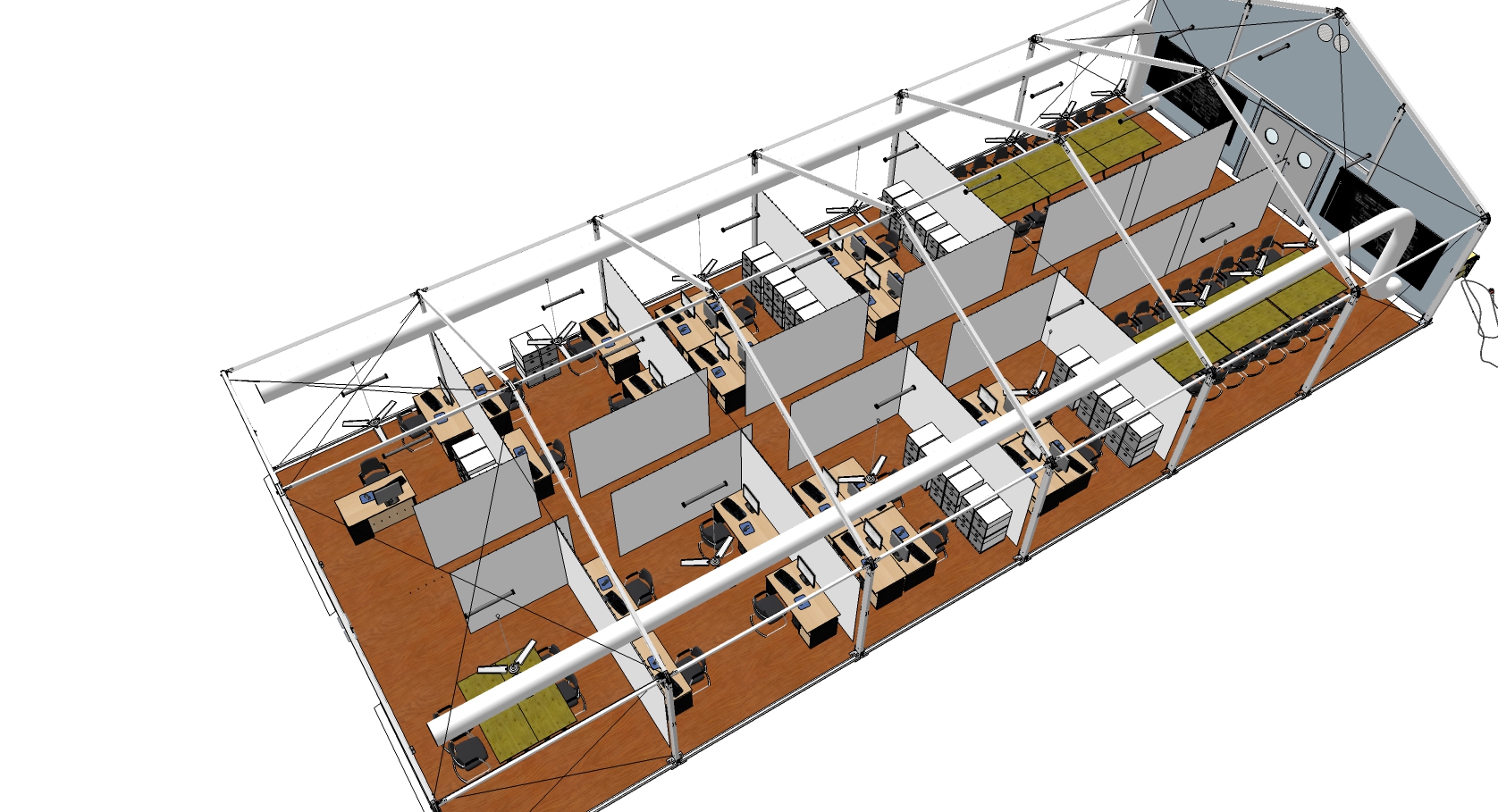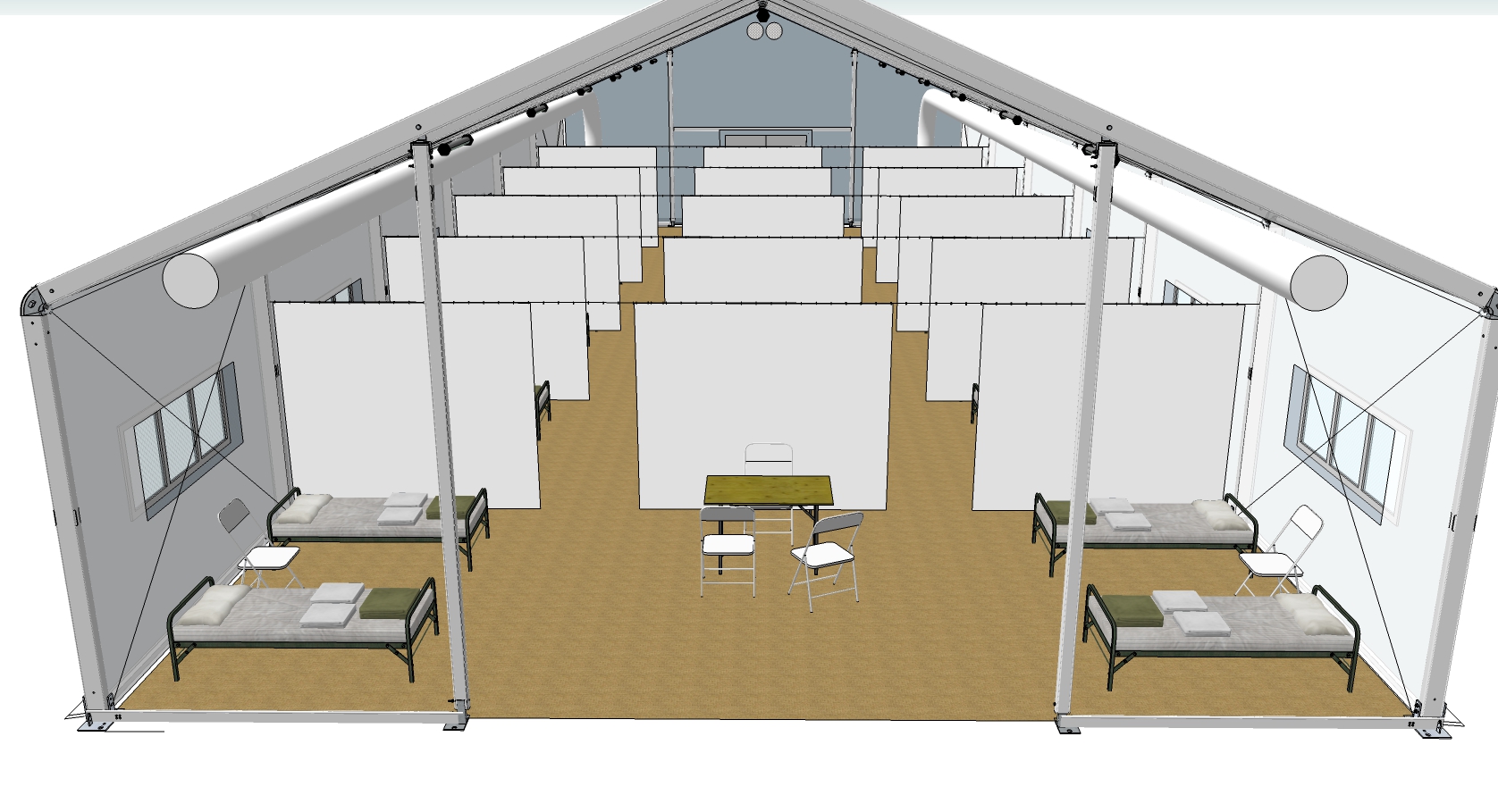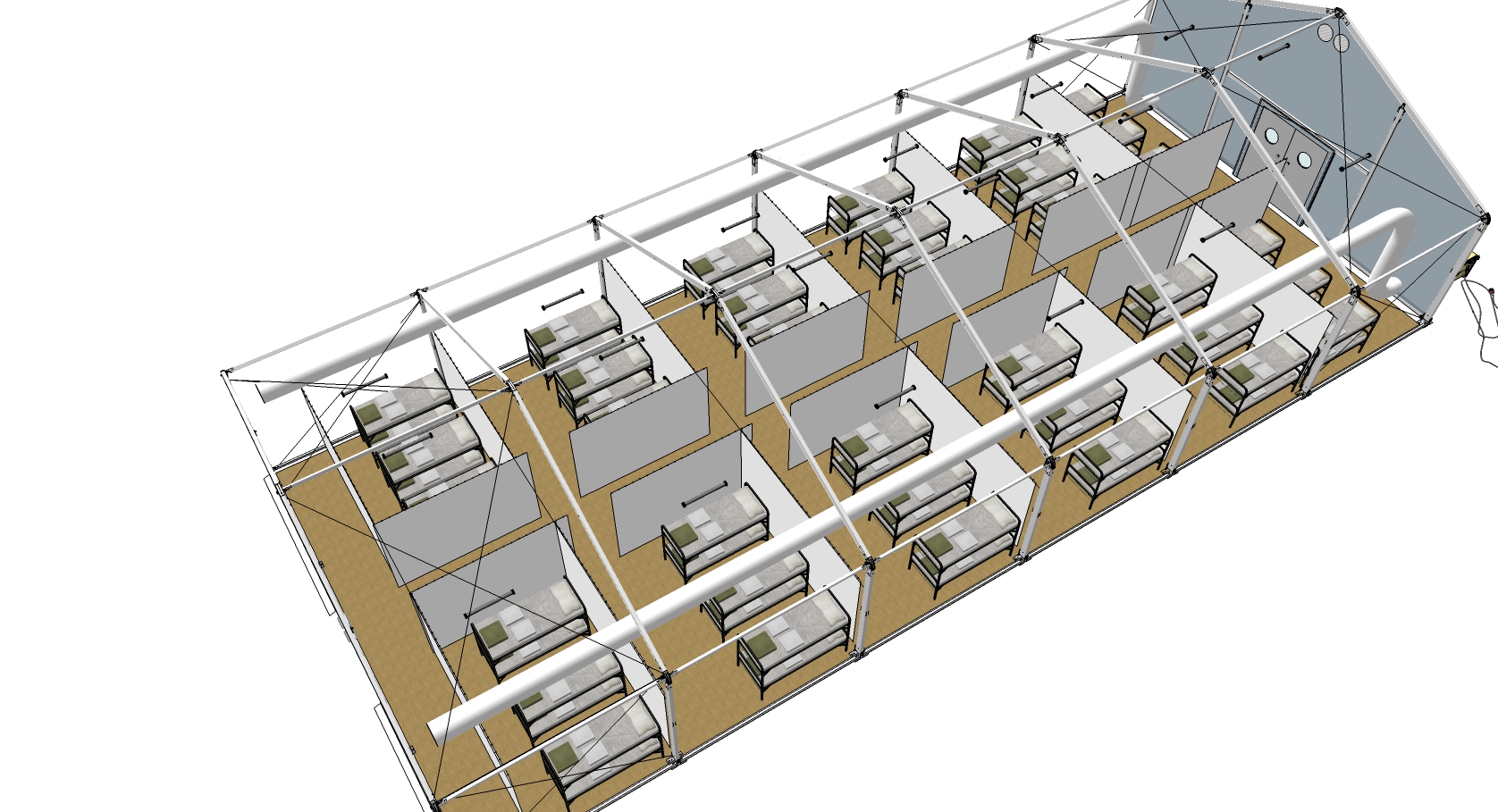 Accommodating and supporting relief workers
Depending on the format and density, the Rex Hall can be converted into an accommodation block that can house in excess of 100 people. For greater comfort, hard flooring, insulated liners, partitions, heating and air conditioning can be installed to transform the warehouse environment into comfortable living quarters.
In an accommodation configuration, part of the Rex Hall could also be converted into a canteen, kitchen or recreation area. Alternatively, an additional MSU could serve this purpose, connected to the accommodation block with a linking kit. Such facilities can be easily created by using the available accessories, and extra ventilation and lighting can be added to make a practical and hygienic space for eating and meeting.
Providing essential services
In the aftermath of a natural disaster or humanitarian crisis, essential community facilities such as school and hospitals are often damaged or destroyed, resulting in severe shortages in essential services. The Rex Hall can quickly fill this gap.
Whether a basic medical unit or a full-scale field hospital is needed, the Rex Hall can be transformed to provide the required infrastructure by using accessories such as flooring, insulation, heating, air conditioning, window panels and pedestrian doors. Additional special accessories and partitions can be utilised to create operating rooms and other advanced medical facilities.
A standard Rex Hall can also be converted into a temporary school. Its modular construction allows one or multiple classrooms to be created, fully separated from each other and each with its own entry door. Large windows can be added in the side walls to provide plenty of daylight. Again, hard flooring, insulation liners, heating and AC can be added for extra comfort.
Supporting the ongoing response
Any relief effort requires a significant support operation, and the Rex Hall can fully meet these needs. It can be used as an office building, controlled distribution centre, garage, workshop and even as dog kennels. This is just a small sample of potential uses, and we continuously work with our clients to meet their very specific needs.
The king of MSUs
It is the sheer flexibility and adaptability of the Rex Hall which has led us to name it as the king of our product range. To find out more, click here to get full technical specifications and view our Rex Hall production process and assembly videos.